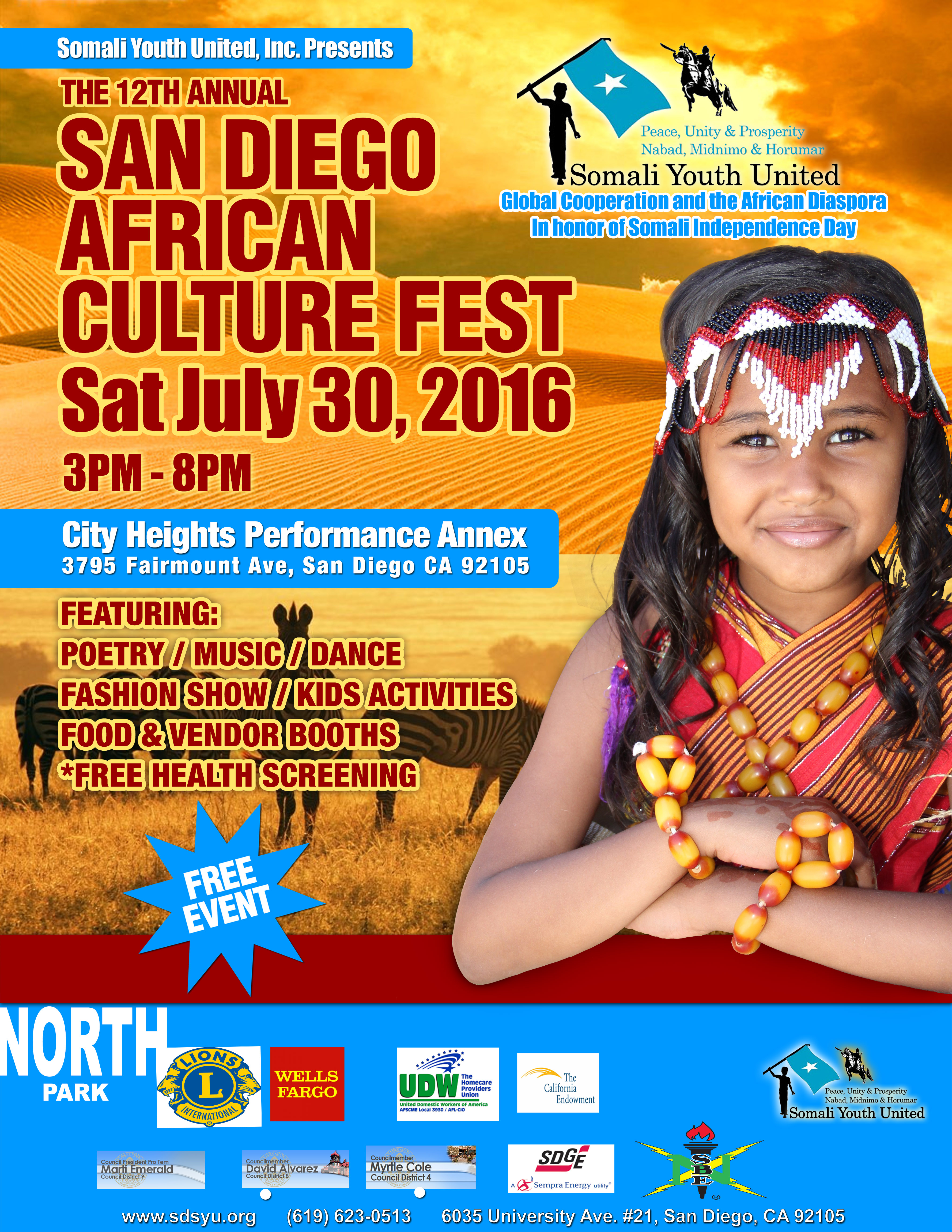 The San Diego African Culture Fest provides the community in particular the African community with a sense of identity and pride, while at the same time given Americans throughout San Diego a new perspective into the lifestyle of the African-American communities. Celebrating in their rich cultural dance, poetry, and fashion these diverse unique cultures are able to provide a gleams into their cultures and heritage. Since its inception in 2004, the SACF has grown both in popularity as well as its theme and inclusion of other African Cultures here in San Diego. In addition to the beautiful weather and wonderful people here in San Diego we are also fortunate to live in the one of the most diverse city per capita in the U.S.  

The San Diego African Culture Fest, formerly Somali American Culture fest emphasizes the vital role the arts play in our communities. With a diverse population of communities in the region we have found that there is a strong case to be made for increased support and sustainability of the arts and culture community, while recognizing the community's inspiring achievements. Finding an effective path towards those solutions for our vibrant and diverse arts and culture sector here in San Diego is the primary purpose of the Annual Culture Fest.

In its eleventh successful year as an awareness-raising event for the San Diego residents, last year over 2500 residents came to the celebration and we anticipate an increase in attendance because of its popularity.  San Diego African Culture Fest celebration allows the diverse African community here in San Diego an opportunity to celebrate and preserve its cultural heritage, traditional music and arts.  Somali Youth United, a non-profit organization, hosts this cultural event to unite the African refugee community and the American community together here in San Diego. This unique event has allowed SYU to create a bridge of understanding and break down cultural myths and stereotypes through food, dance, poetry and music.
Somali Youth United would like to invite you and your family to came out and celebrate with us on Saturday June 6th, 2015 at the Fairmount Library Performance Annex from 3 pm to 8 pm for our 11th Annual San Diego African Culture Fest Celebration. Come and enjoy a festive diverse African culture Festival day, with traditional music and poetry performance by the Somali, Somali Bantu, Ethiopian, Eritrean, African-American and South Sudanese  communities. All San Diego residents are invited to come out and enjoy a full afternoon of music, poetry, kid's activities, dance, fashion show from all over Africa.
"Embrace the blending of American and Somali traditional culture. As thousands of Somali American children are born in as citizens of the U. S., it is time to show gratitude to America for giving us the freedom to live and work as equals in this great country." Abdisalam Farah, President, Somali Youth United.